Interesting Cases and Pictures
This is where I'll upload interesting cases and good pictures I take throughout residency/my career.
Granulomatous KP in Arlt's Triangle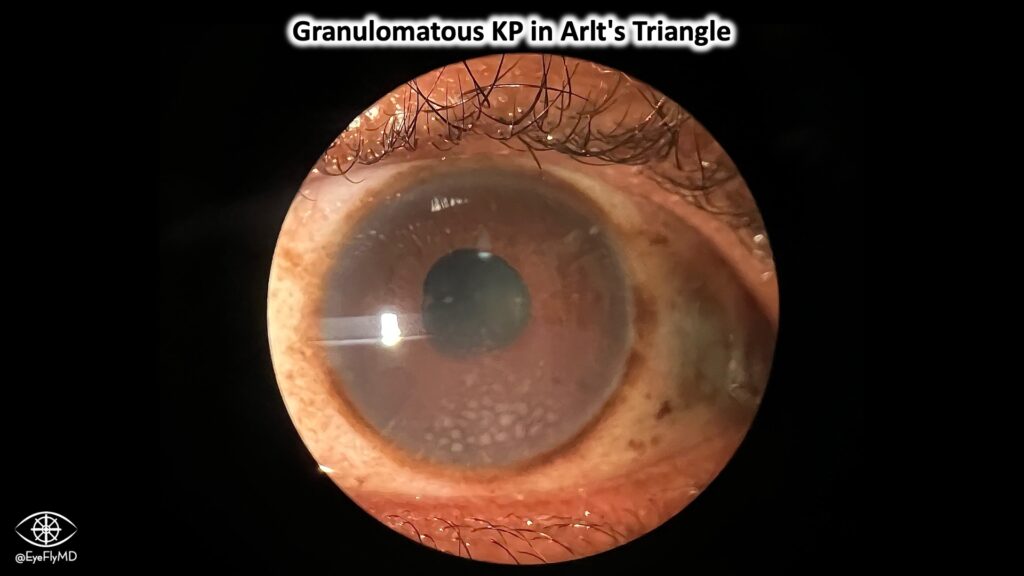 This is a good example of granulomatous KP perfectly within Arlt's triangle. Arlt's triangle refers to a triangular shape of cornea with the apex at the center of the cornea and base inferiorly. This should make you think of the big 3: Sarcoid, Syphilis, TB. Also remember: Lyme, VKH, SO, and toxocariasis. This pattern is due to gravity and aqueous fluid currents.
Pseudoexfoliation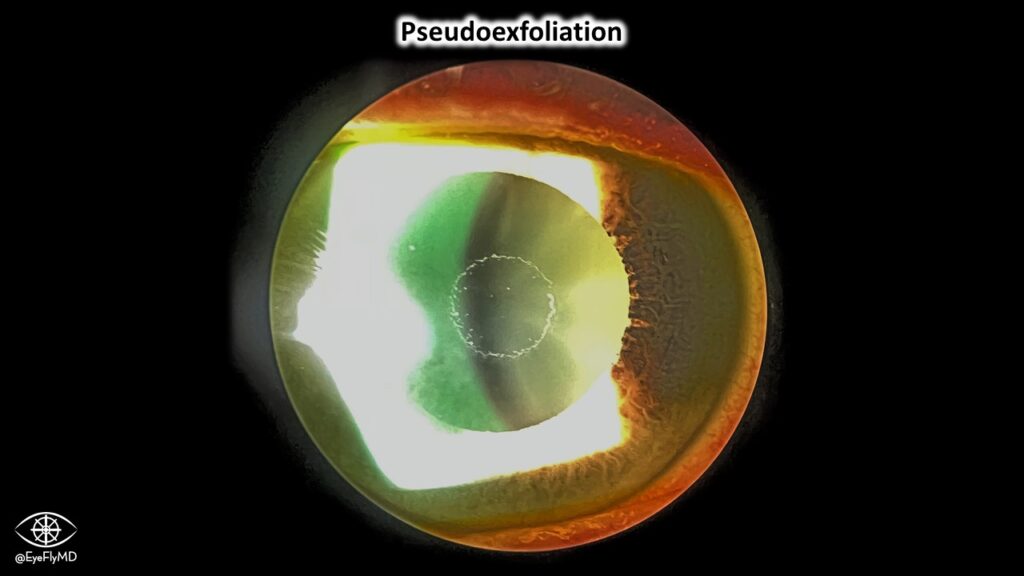 Excellent example of pseudoexfoliative material on the anterior lens capsule. Remember, "pseudo" because the anterior capsule is not actually delaminating because the patient is not a glass blower. This disease is characterized by flaky, fibriller, white material that is deposited throughout the body (not just the lens).
Torsional/Rotary Nystagmus
Great eample of torsional nystagmus likelye secondary to vestibular neuritis. It looks like SO myokymia but the fast phase is excyclotorsion OD and incyclotorsion OS.
IOL Glistenings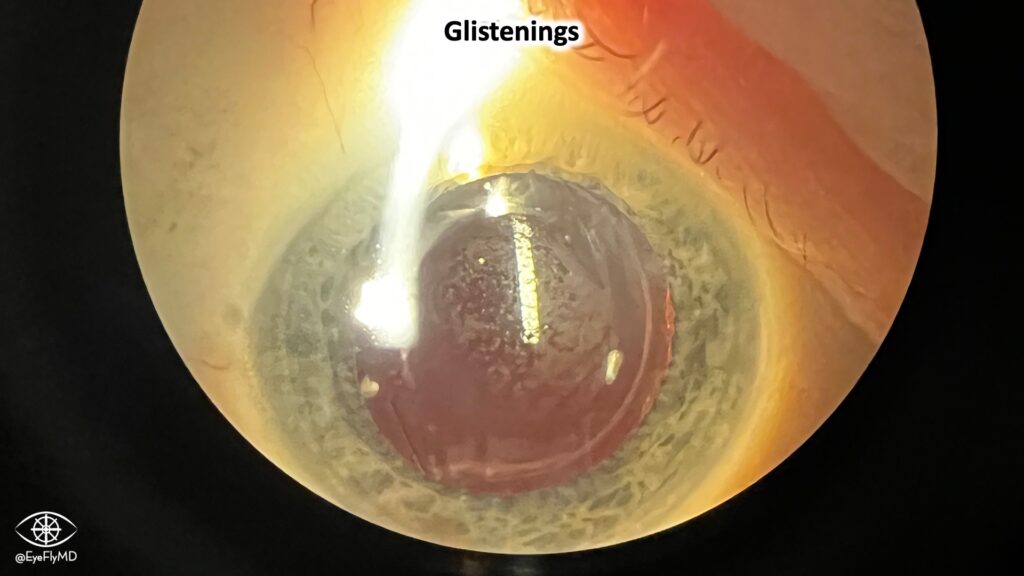 Glistenings are microvacuoles that form on hydrophobic IOLs. They're not usually visually significant. These were common with the AcrySof platform but the updated Clareon material fixed this. EnVista is also a glistening-free IOL platform.
Multifocal Choroiditis with Panuveitis (MCP)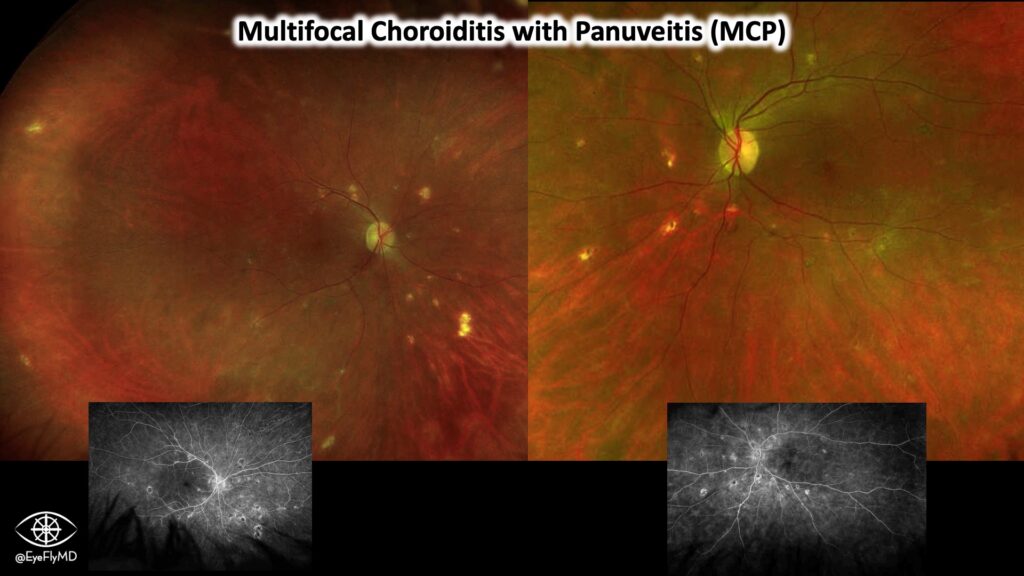 Anterior uveitis, vitritis, visual disturbances, and these fundus findings in a young myopic female is very consistent with Multifocal Choroiditis with Panuveitis. Aside from the vitritis, this looks a lot like POHS. In fact, an old term for this is "pseudo-POHS".
Asteroid Hyalosis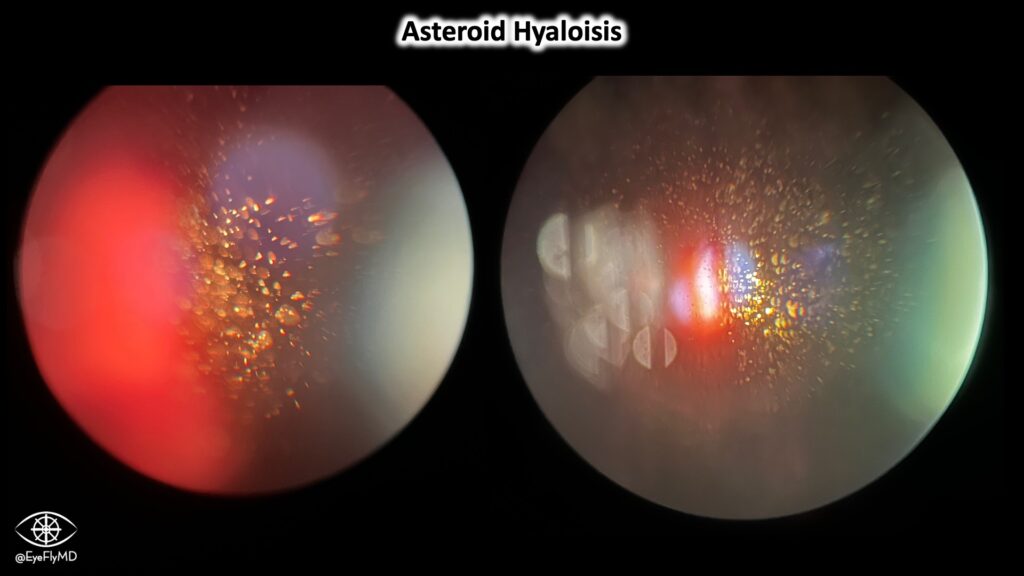 Asteroid hyalosis is a common condition characterized by deposits of lipids, calcium, and phosphorus suspended in the vitreous. It resembles an asteroid field. It's associated with DM and differentiated from synchysis scintillans where the deposits float freely in the vitreous and settle.